Preparing for an Outage
When the power goes out, it can last for minutes, hours, or sometimes even days. The outage may disrupt communications, water, transportation, stores, banks, and other services. It may also impact your lighting, heating, cooling, food, and medical needs.
Preparing for outages before they occur can help reduce discomfort when the power goes out. Follow the tips below to help you and your family prepare for outages:
Keep your contact information up to date so you can receive outage and emergency alerts from Liberty.
Update My Contact Information
Put together an emergency kit to address the needs of your family and your pets. Use our checklist at the button below to help get started.
Emergency Preparedness Checklist
Plan for medical needs that may be impacted by a loss of power.
Keep your cell phones and other electronic devices fully charged. You may want to consider purchasing a back-up battery device.
Store at least a 48-hour supply of non-perishable food and water.
Keep cash on hand for emergency purchases, as ATMs and bank services – including credit card transactions – may be impacted during an outage.
Plan for heating and/or cooling for your home.
If you have a generator, please review our generator safety tips.
Generator Safety
Source: Red Cross
Make an Emergency Plan
Liberty encourages our customers to be prepared for extreme weather conditions by having an emergency plan in place and additional supplies on hand.
Make an emergency plan and share it with members of your household. Two things to include in your plan:

Evacuation routes
Meeting point outside the home
For more information on creating an emergency preparedness plan, please visit https://www.ready.gov/plan.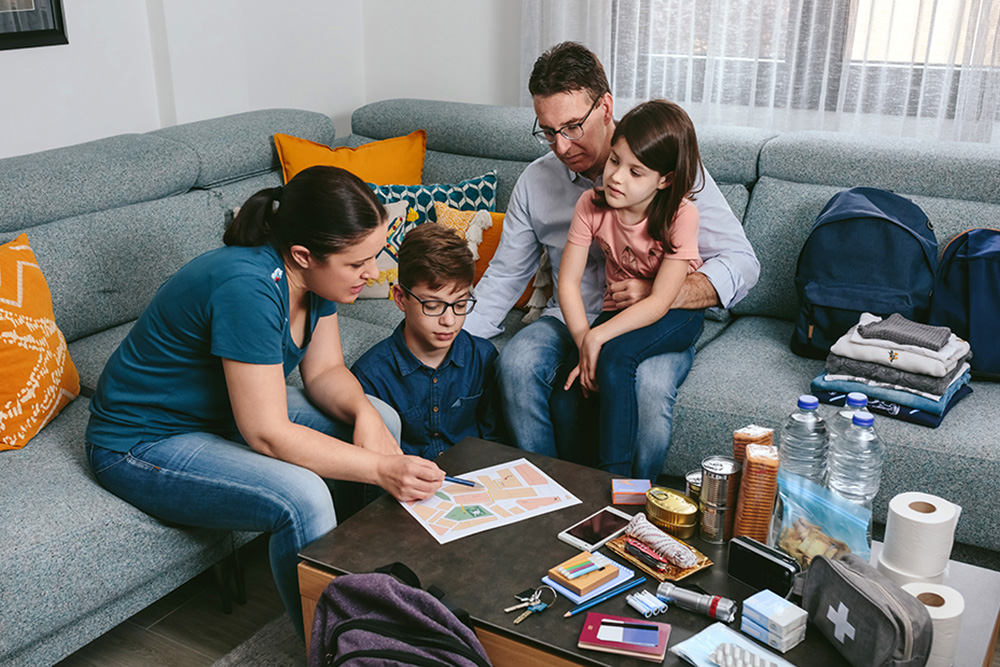 Reporting Outages
If the power goes out, first check to see if the power failure is limited to your home or business. If your neighbor's power is still on, check your circuit breaker panel or fuse box. If the problem is not a blown fuse or tripped circuit breaker, call Liberty to report the outage.
I see wires down – who should I call to report?
Do not approach the wires – stay at least 30 feet away. While maintaining this distance, try to identify which wires are down. Are they telephone/cable lines or power lines? Use our graphic below to help you identify which lines are down. If the telephone/cable lines are down, please call your telecommunications provider. If they are power lines, please call Liberty at 1-844-245-6868.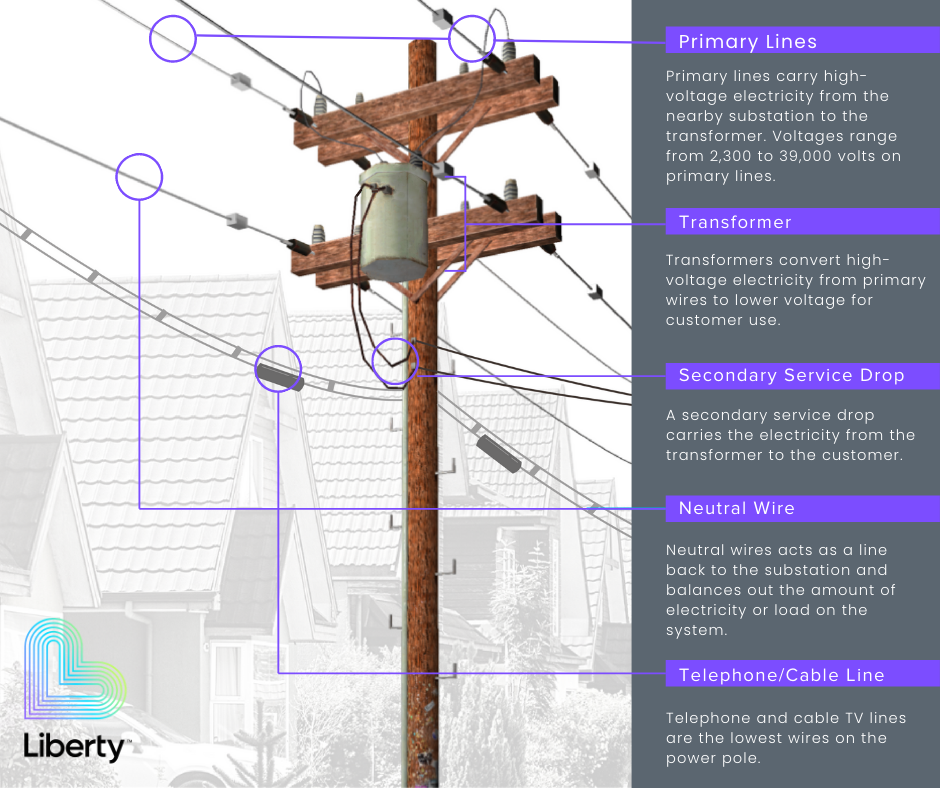 What to Do During an Outage
Liberty crews work year-round to provide safe, reliable service, but power outages may still occur. Outages may be planned in advance so that crews can safely upgrade infrastructure or they may be unplanned as a result of a car accident, storm, animal contact, or for other reasons.
While our crews work to restore power as quickly and as safely as possible, there are some steps you can take to help reduce discomfort during an outage. Use our tips to the right to help.
Here is some helpful information to keep in mind in the event of a power outage:
Estimated restoration times (ERT) may not be available right away as crews need to assess situations to determine repairs needed. Liberty will provide an ERT when available.
ERTs are subject to change as new developments arise. Power restoration may occur before or after an ERT depending on weather, access, and repairs.
Outage and Safety Tips
Close drapes and blinds on the sunny side of your home to help prevent the sun's rays from directly heating your home.
Drink plenty of cool liquids, even if you do not feel thirsty.
Wear lightweight, light-colored, loose clothing.
Reduce, eliminate, or reschedule strenuous activities to a cooler time of the day.
Cool down by taking a bath in lukewarm water, as this helps conduct heat away from the body.
Keep doors closed to keep the heat inside.
Have your family dress warmly, gather blankets/sleeping bags and stay together in the same room or area where there is an alternative heat source such as a fireplace. Even in very cold weather, the house should stay comfortable for several hours.
If the indoor temperature drops to 55 degrees Fahrenheit or below, open faucets slightly to allow a constant drip to help prevent water pipes from freezing.
If candles are used, do not leave them unattended.
When heating your home, avoid burning coal or wood or using a fuel-burning heater such as a kerosene heater in an indoor area without proper ventilation.
Do not use gasoline or other flammable liquids to start or quicken a fire. Keep a screen around an open flame, and don't close the damper while ashes are still hot.
Place heaters on a hard, non-combustible surface.
Keep access to your electrical panel clear of snow to help our crews expedite repairs.
Downed Power Line Safety Tips
Stay at least 30 feet away from downed power lines, as they may be energized and dangerous.
If a person or object is in contact with a power line, do not touch the person, object, or line, as the electric current could flow through to you. Instead, call 911 and Liberty at 1-844-245-6868 immediately.
If your vehicle comes into contact with a power line, stay inside. Warn others not to approach the vehicle and to not attempt to touch the vehicle or line.
Keep your refrigerator and freezer closed as much as possible. The contents should be good for many hours if the door is kept closed.
If perishable or frozen food has been at a temperature above 40 degrees Fahrenheit for more than two hours, throw it away.
You may want to consider packing perishable items into a cooler surrounded by ice. If outside temperatures are below 40 degrees Fahrenheit, you may be able to store the cooler outdoors.
After electricity is restored, examine your perishable food items to check if they have spoiled. If in doubt, throw it out!
Before returning food to a refrigerator or freezer, clean and disinfect it thoroughly. You can sanitize the space with one teaspoon of bleach in one quart of water. Do not use more bleach, as it can be toxic. Leave the door open until it dries completely.
Tips for Customers with Medical Needs
Customers who use life-sustaining medical equipment that is dependent on electricity should call us at 800-481-9190 and consider registering for the Medical Baseline Allowance.
Registering for this program does not guarantee continuous service or priority restoration, nor does it prevent disconnection from service resulting from late or unpaid account balances.
Plan for medical needs that a loss of power may impact. Purchase a back-up power source or maintain an up-to-date relocation plan that you can follow until power is restored.
Keep a list of the nearest medical facilities, hospitals, and nearest accessible transportation.
Consider creating a support network of people who can help you in the event of a disaster. Keep a contact list in your emergency kit and on your electronic device.
I have a second home in the Tahoe area – how do I know the power is out?
If you are not currently in the area and your camera system or smart home devices are not working, call your internet provider first to check if communications are down. Then check Liberty's outage map to confirm it is a power outage before calling Liberty to report an outage.


Claims
Liberty works to provide safe and reliable electric service to our customers. However, if you believe an electrical event such as a power surge caused damage to your home and/or any electrical appliances, please file a claim with Liberty. Liberty will review and research each claim, which may take six to eight weeks. If you have any questions, contact our Claims Representative, Danielle Seibel at 530-721-9679 or danielle.seibel@libertyutilities.com.
Why and How to Report Outages
How Liberty Restores Power